Bitcoin is well known to be one of the most volatile assets in all of finance. It has crashed 25% or more in a matter of hours on multiple occasions. Bitcoin crashes actually can be a good thing for long-term investors. Corrections are normal and healthy in any asset in finance, especially for one that has made as big of a move as Bitcoin has last year. However the past month it has been in a major downtrend, giving back more than 60% of its gains since its' all-time highs in December last year. Let's distinguish between a crash versus a bear market, and look at a history of Bitcoin's crashes: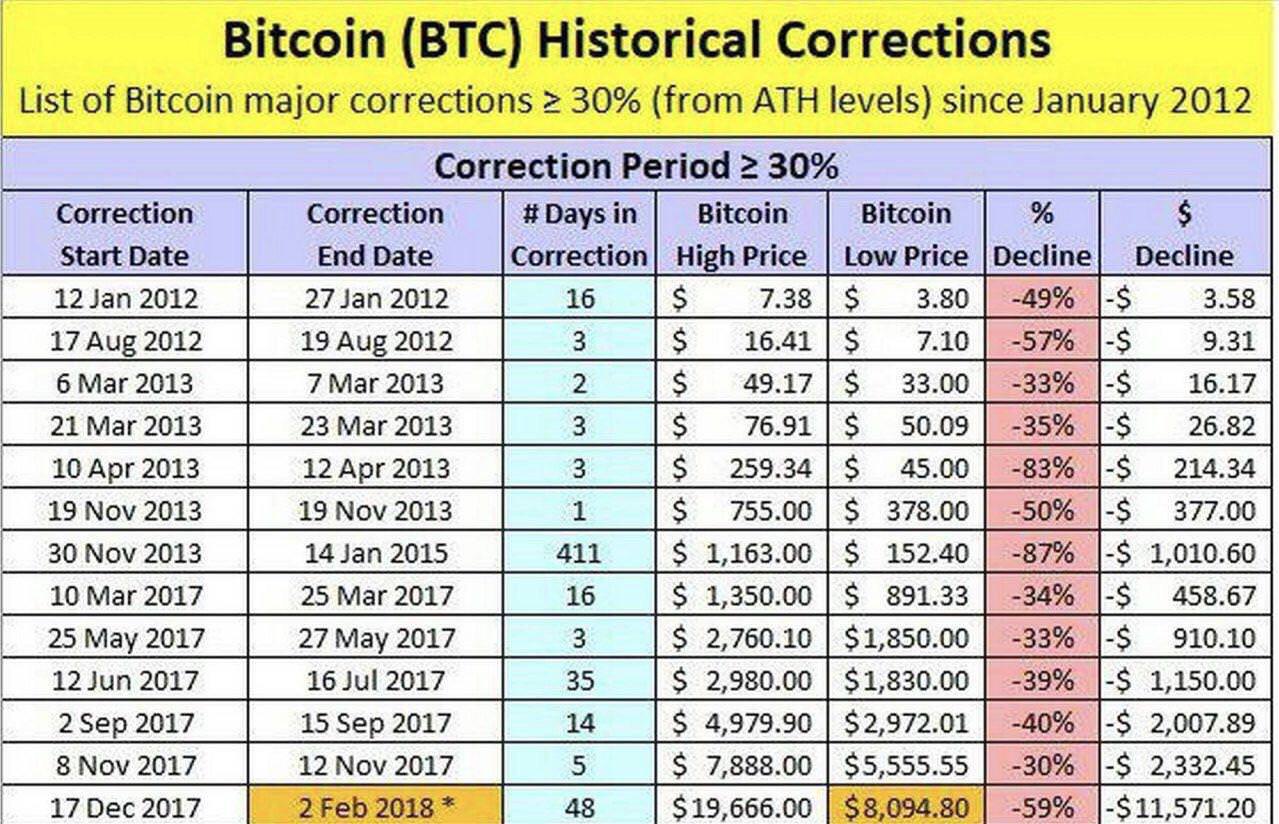 (Data courtesy of ccn.com)
We can see from the table above that Bitcoin is no stranger to large corrections in a short period of time. The latest correction in Bitcoin retraced all the way to the high 5000's but bounced back to the 8000's. We can see that Bitcoin has made a similar run-up (percentage wise) in 2013 to the run it made in 2017.
Bitcoin Has Recovered From Big Retracements Before
Bitcoin had a big retracement after going from around $100 to almost $1100 in not even two months. Bitcoin went from around $1000 to almost $20,000 in 11 months last year. It is no surprise we are getting a retracement similar to the one in 2013. However, this does not mean Bitcoin is dead.
In the infographic above, we can see how many times Bitcoin has had an enormous correction in a short period of time. Despite all these corrections, Bitcoin's longer-term trend has still been making higher lows. Bitcoin is still in a major downtrend at the moment, and we don't know when that trend will end and how low it will go. There is even more uncertainty around if/when the government enforces regulation of the cryptocurrency, which may affect its' price even more.
The takeaway here is that Bitcoin has lost a lot of its value in the past month, and there is a lot of uncertainty about government's regulation of it. On Tuesday February 6th, Congress held a meeting to discuss cryptocurrencies which seemed too be pretty positive for the most part. The Chairman of the CFTC, Christopher Giancarlo, was quoted saying, "We owe it to this new generation to respect their enthusiasm for virtual currencies, with a thoughtful and balance response, and not a dismissive one.". 2018 will be a big year for Bitcoin's future. Bitcoin could still play a pivotal role in the future of currency.
Start Banking on Cryptocurrencies
If you looking to learn how to profitably trade Bitcoin and other cryptocurrencies, you should check out our comprehensive brand new Bitcoin Bootcamp: Cryptocurrency Trading Mastery course. It will take you A-Z on everything cryptocurrency related, and will teach everything you need to know to profitably trade cryptocurrencies.