Cryptocurrencies are one of the most volatile assets in the finance world. This year we have seen a strong resurgence in the cryptocurrencies markets, with Bitcoin, Ethereum, Litecoin, and many other altcoins up over 100% this year, and still climbing. There is still a ton of money to be made as day traders and swing traders. This is the best time to be trading cryptos since 2017. 
In order to capitalize on the crypto markets this year as a day trader, it is crucial that you are trading the correct cryptocurrencies with the best trading strategies on the right exchanges. Before we talk about the best cryptocurrencies for day trading, let's talk about the common characteristics that make them ideal for day traders:
Volatility
One of the best things about day trading is that you can capture a big percentage moves in a very short period of time. In order to make big percentage returns in a few hours, you need to find cryptos that are volatile, meaning they will make large moves in a short period of time. However, not all cryptocurrencies make big moves in a short period of time. Bitcoin will usually only move around 1%-5% per day. This is considered volatile to most people, but they're even more volatile cryptocurrencies out there, which are better for day trading.
All 5 of the cryptocurrencies mentioned below often make 5%-10% moves in just a few hours. It is crucial that you manage your risk correctly when trading volatile cryptos. You can make a lot of money in a short period of time trading these, but you can also lose a lot of money in the same amount of time if you do not have proper risk management. In our trading chatroom, we have 100's of eyes on the markets 24/7, and we rarely fail to alert a big move in the markets.   
Liquidity
Another important component characteristic of these cryptos is liquidity. Trading an illiquid crypto can make entering and exiting your positions tricky, especially if you are trading larger position sizes. When you are day trading you will be entering and exiting positions often.
If you are trading something illiquid you could lose a lot of money because of slippage. Slippage is when your orders are either sold at a lower price than you intended and buying at prices higher than you are looking for. This will cause you to lose more money entering and exiting your positions.
Trade On The Best Exchanges
Not all exchanges have good liquidity for trading cryptocurrencies, even if it is a well-known cryptocurrency. It is crucial that you trade on exchanges that have coins with good volume, and also have platforms that have fast execution speeds. My favorite exchanges to day trade coins with are Coinbase Pro, Binance, and Kraken. I also use Bittrex occasionally.
Now that you understand the characteristics of the best cryptocurrencies for day trading, here are the 5 I recommend for day traders (you'll be surprised Bitcoin isn't one):
Ethereum (ETH)
Ethereum is the 2nd biggest cryptocurrency in the world, and it tends to closely follow the price action of Bitcoin, similar to most of the major altcoins out there. It has been on a monster run this year, up over 150% since January. One of the best things about day trading Ethereum is that you can short sell it on the Kraken exchange, in addition to buying it. This means you can make money on it when its' price goes down.
Most of the plays have been to the long side on ETH this year. You can trade ETH on Coinbase Pro and Bitfinex, and you can short ETH using Kraken. 
Binance Coin (BNB)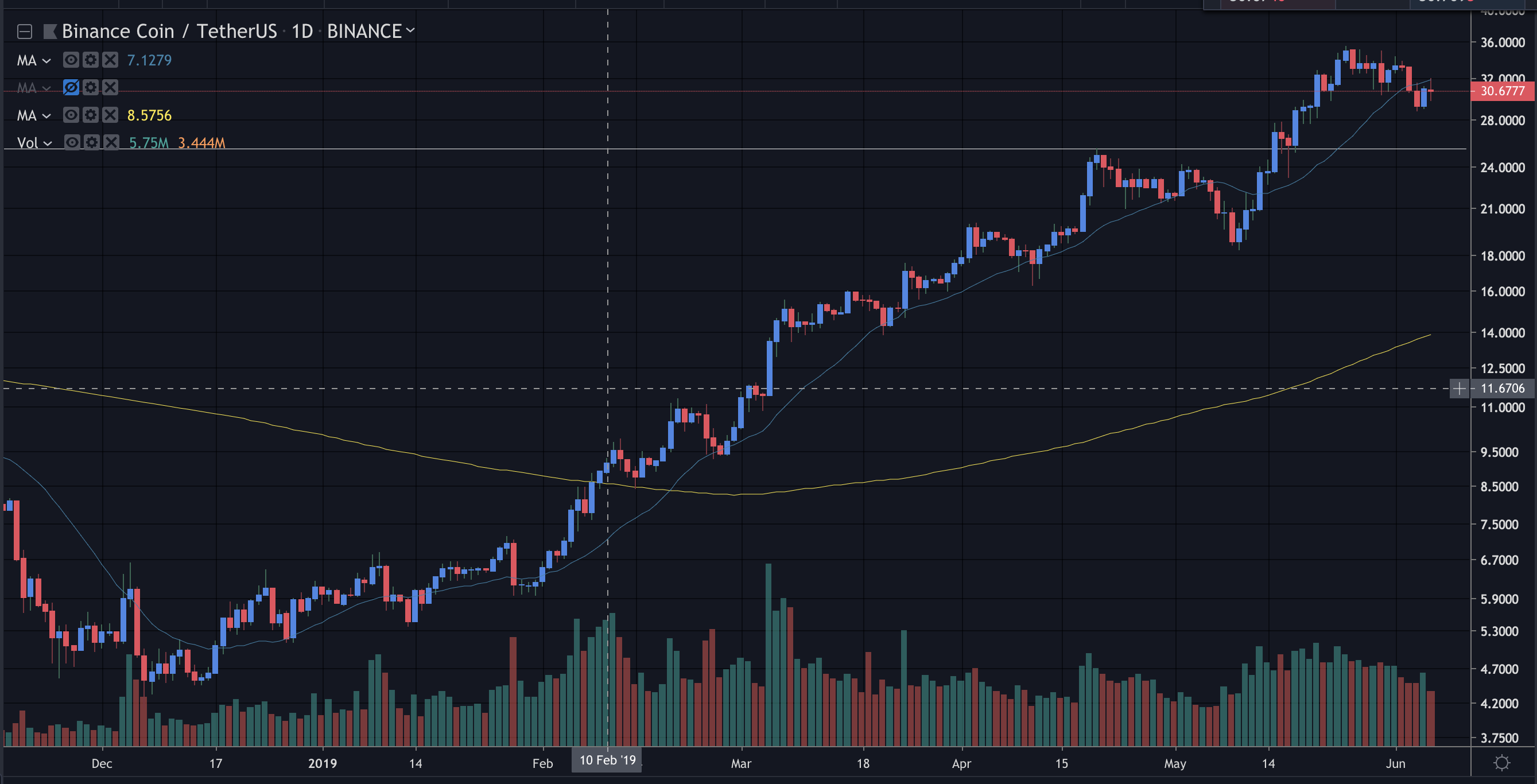 Binance Coin is the token of the Binance Exchange. It has been the strongest altcoin this year, showing serious relative strength to Bitcoin and the other altcoins mentioned here. It's up over 500% since January alone. You can see on its daily chart how it has been on a non-stop uptrend all year. Buying dips for day trades has been a consistent winning strategy all year. You can trade BNB on the Binance Exchange.  
NEO


NEO is a great altcoin for day trading because it will not always just follow the trend of Bitcoin like other altcoins. It will often go on big runs on its own and show relative strength to Bitcoin at times. It is on the cusp of a major breakout over the $14 area, and will be a great trader once it breaks out.  You can trade NEO on Bittrex, Binance, or Bitfinex. We had a big trade on NEO recently (check out the trade recap here).
EOS
 EOS has been on a monster run as well this year. For those of you that like day trading lower priced altcoins, this is the one for you. It is in a strong uptrend, up over 300% since the turn of the year. You can easily rip 10% moves on a daily basis on this if your timing is right. You can trade EOS on Kraken, Binance, or Bitfinex.
Ethereum Classic (ETC)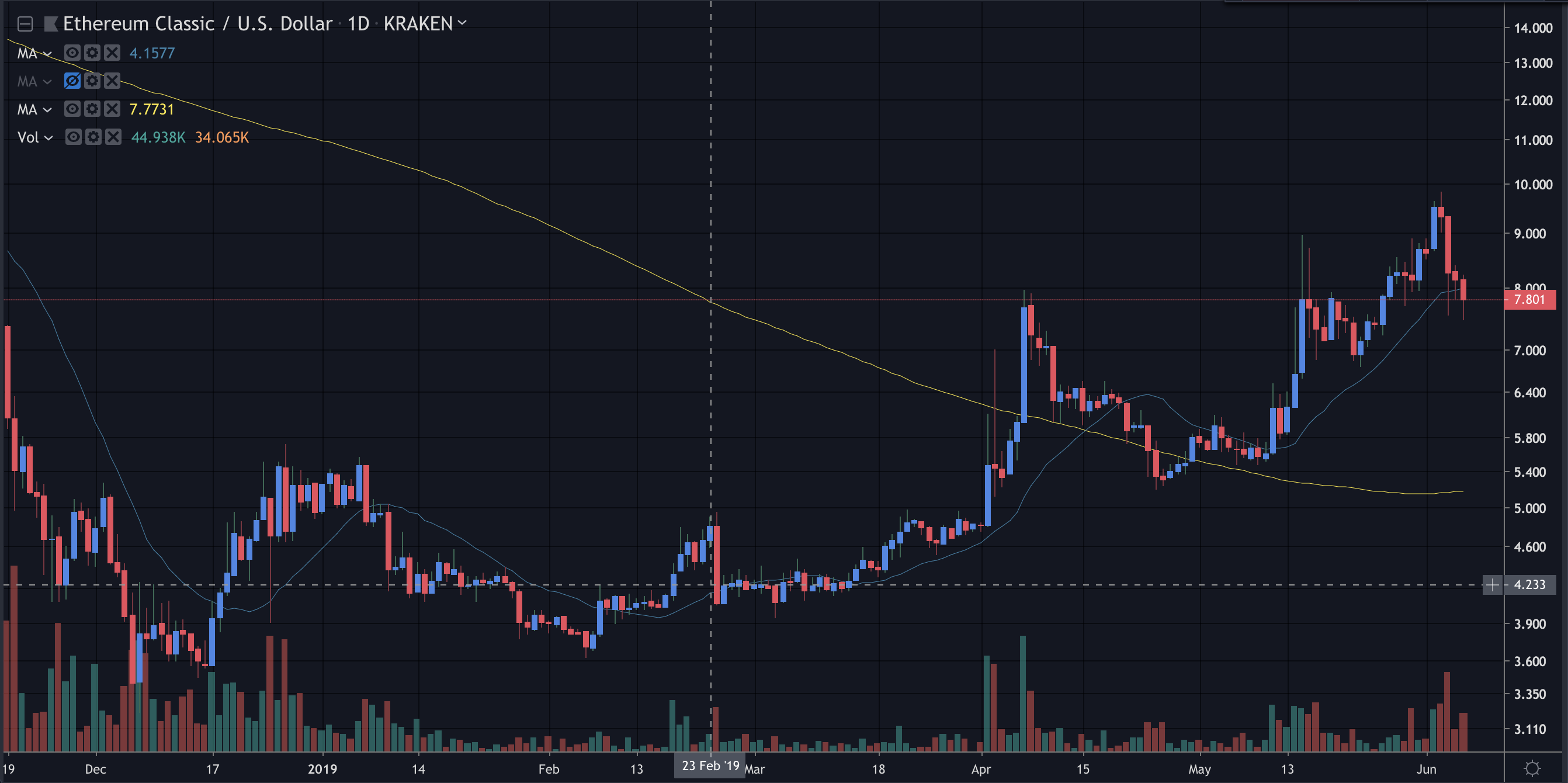 Ethereum Classic is the least volatile out of all altcoins mentioned above. It is worth mentioning in case you are looking for a slightly less volatile altcoin to day trade that can still yield decent gains. Bitcoin is also a good option for a low volatility trader, but ETC has slightly more range to play around with. You can trade ETC on Kraken, Coinbase Pro, Binance, or Bitfinex.
Want to learn how to day trade cryptocurrencies to profit in the 2019 market conditions?