Cryptocurrencies have went through a short-term downtrend and are starting to consolidate. It may continue, it may not, no one knows for sure. But we do know altcoin trading strategies that worked in 2017 do not work in 2018. This market environment requires a very different set of strategies in order to profit from them. Let's go through the best altcoin trading strategies that will allow you to capitalize on the current cryptocurrency market conditions.
Shorting Into Bounces
One of the best altcoin trading strategies right now is shorting into large bounces. Every altcoin is still in a downtrend so until there is a major sign of a trend change, every pop will be considered a shorting opportunity. A good way to time the bounces is to short into retracements to the intraday and larger time frame moving averages. Strategies like that trade with the trend and are much easier for newer traders since you know time is on your side. You don't want to be shorting weakness because cryptocurrencies are so volatile they can quickly reverse on you after your entry. You need to be patient and wait for them to bounce to give you a better risk versus reward ratio on your trade.
Not many brokers allow the shorting of cryptocurrencies, but one of the few exchanges that permits shorting is Kraken.
Long The Bounce After A Big Flush Down 
Nothing goes straight down forever. Once an altcoin is down 15-20% on consecutive days the probability that it will have a good bounce is high. There can be good money made once there is some significant extension to the downside. Remember this is just a quick trade, you are not expecting to time the market bottom. Here is an example of a good bounce play you that we played in Ethereum after a big point dump in around 24 hours: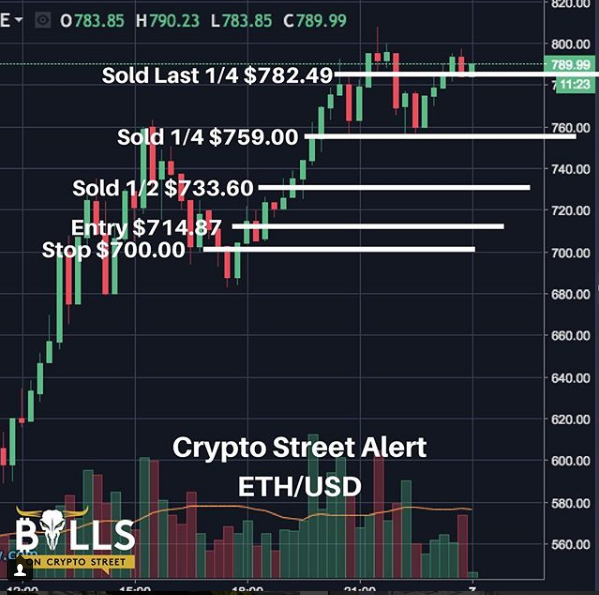 You can see that we got in after we saw that higher low and hold of that 700 level. You do not want to try to pick the exact bottom on these plays, especially if you are new. Wait for some confirmation that the short term trend has changed, and then take a position. If you have not played these before, you should stay on the sidelines and watch it play out a few times before taking a stab. Cash is a position.
Bounce Play Against Daily Support
Daily support is another way you can play altcoins to the long side in this environment. You want to identify levels on the daily chart where buyers have come in and caused the altcoin to reverse. Here is an example with ETH:
We can see that it bounced off that 800 level on January 17th after a big drop from the 1300's. When we see it drop to that level on February 2nd we know that it has a high probability of bouncing since it already held that level before. These are only quick trades, as you can see soon after it broke that level and flushed lower. You are just looking for a quick pop to sell your coins into. You also don't want to be playing bounce plays after the 2nd test of that level, as the probability of it holding becomes much less on the 3rd test.
Learn More Altcoin Trading Strategies
Despite the bear market in cryptocurrencies, there are still many ways to profit from them. We teach even more of our altcoin trading strategies in our comprehensive brand new 'Bitcoin Bootcamp: Cryptocurrency Trading Mastery' course. It will take you through A-Z on everything cryptocurrency related, and will teach what you need to know to profitably trade cryptocurrencies.