Everyone has been talking about altcoins like Ethereum, Litecoin, and Bitcoin Cash all year. They have all yielded hundreds of percent returns for holders this year, and are expected to keep increasing in 2018. However, there are numerous altcoins that are not on everyone's radar yet that could yield monstrous returns in 2018.  So which altcoins have the potential to go up 1000% or more in 2018? Here are several promising cryptocurrencies that will be strong candidates to make huge moves next year.
IOTA (IOT)
IOTA was founded in 2015 by David Sønstebø, Sergey Ivancheglo, Dominik Schiener, and Dr. Serguei Popov. IOTA is an open-source distributed ledger focused on providing secure communications and payments. Using directed acyclic graph technology instead of the traditional blockchain, IOTA's transactions are free regardless of the size of the transaction and their confirmation times are fast.  The number of transactions the system can handle simultaneously is unlimited, and the system can easily scale.
IOTA has made an incredible move the past month, going from .30 cents to almost 6 dollars a coin in around 30 days. It has been holding up in the upper part of its range. IOTA, and many other cryptos, recently had a big crash. Despite this huge percentage drop, it did not hold down, which is good sign for longer term IOTA holders. It briefly dipped down to retest the old breakout level in the low 1's, but it quickly rebounded all the way back to over $3 per coin. If you're looking to enter, it is best to wait a few days or weeks to make sure it holds up in the higher part of its range. If we get over the low 4's level after a nice period of consolidation, we will probably see a push back towards the all time highs.
OmigeGo (OMG)
OmiseGO is a public Ethereum-based financial technology for use in mainstream digital wallets, that enables "real-time, peer-to-peer value exchange and payment services agnostically across jurisdictions and organizational silos, and across both fiat money and decentralized currencies." Founded in 2013, Omise is a venture-backed payments company operating in Thailand, Japan, Singapore, and Indonesia, with rapid expansion plans to neighboring countries across Asia-Pacific.
OMG is one of our favorite cryptos to day trade in our cryptocurrency chatroom. It has great range and makes quick moves in a matter of hours. We can see that it has made a monster run since its' ICO in mid-July. It has gone from the low .30s to a high of almost $22 per coin. As it just had a big down day, it is best to wait for some signs of strength before taking a new position in OMG. If it starts to push and hold over the 15 level, we should see some nice momentum to the upside.
Lisk (LSK)
Lisk is a public blockchain platform that provides decentralized blockchain apps. It was forked from Crypti by Max Kordek and Oliver Beddows in early 2016. On May 24th 2016 the Lisk blockchain network went live with its own cryptocurrency called LSK. "The Lisk Foundation is working hard together with its contractors towards the release of their Software Development Kit (SDK). The SDK is a framework written in JavaScript to deploy your own blockchain network next to the main Lisk network. Decentralised applications can be built on top of your own blockchain."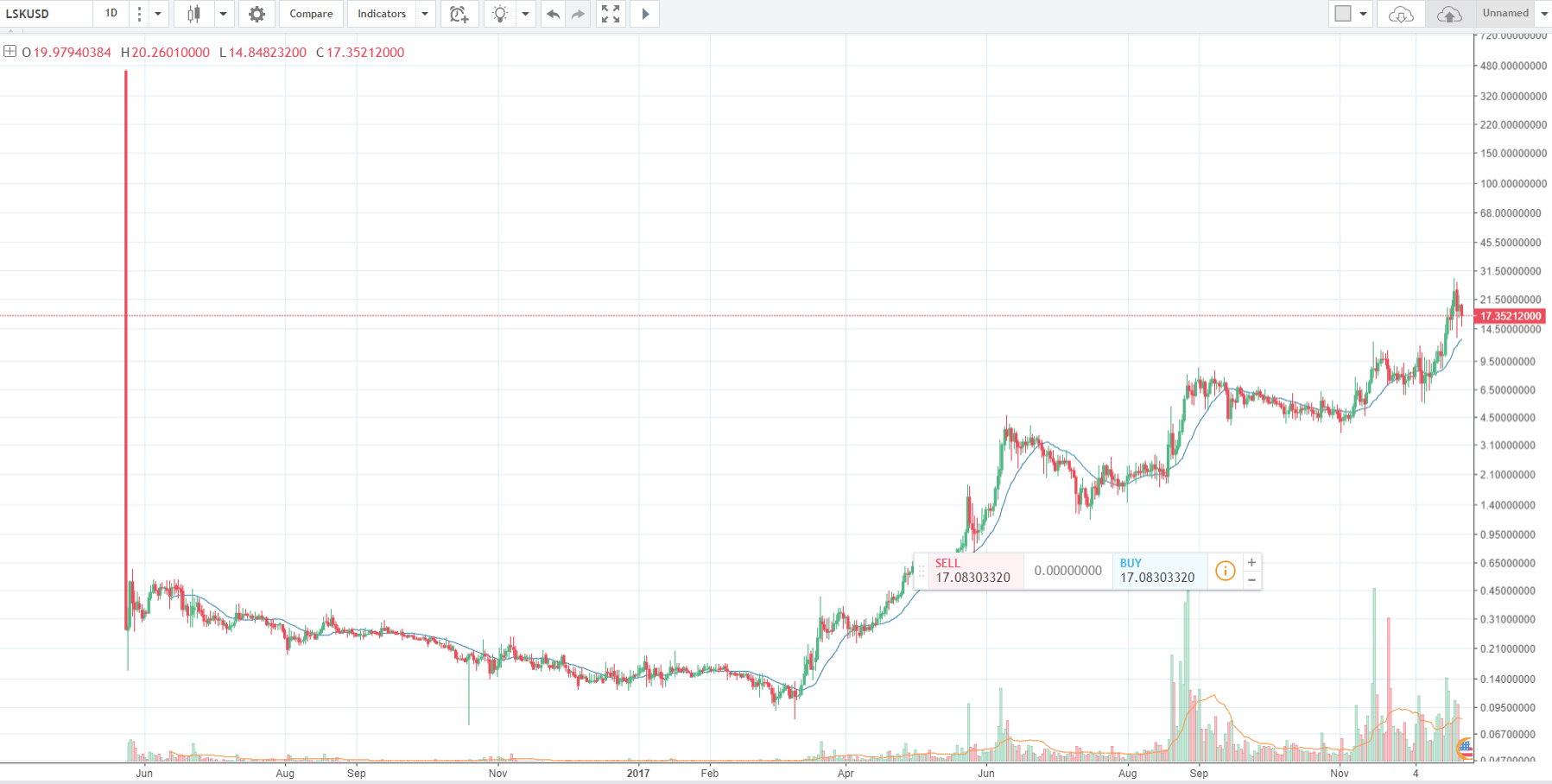 LSK is a more speculative cryptocurrency than the other two above, but is definitely an under the radar cryptocurrency with a lot of upside potential. We can see it has held a strong trend since April. It has made a monster run to the high 20's in the past few months, and is still holding trend. This should be on everyone's radar for 2018. It needs to consolidate a bit after a big breakout of the 10's recently that resulted in a 300% move. Once it consolidates for a few weeks under the ATH level in the 20's, it will  be on watch for a breakout to the upside.
Here is a video you can watch for more information:
There are so many altcoins with great momentum these days it's hard to keep track of all of them, and find a entry before they make a big move. In our cryptocurrency trading chatroom, we have hundreds of eyes and people calling out the biggest altcoin movers each day. If you want to stop missing out on the big movers, feel free to join our community!